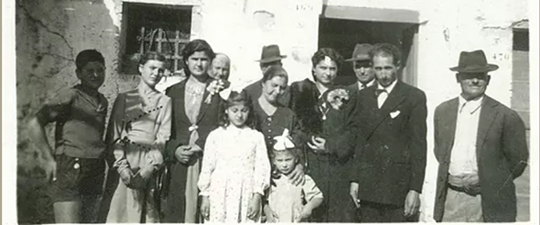 Welcome to our factory
As early as 200 BC, there is evidence of wines produced in this geographical area, and documents from 40 AD even trace their commercialization to the tables of Roman patricians. Our winery, Tenuta Magna, is located in Villamagna in the province of Chieti, right on these hills, and was born in the footsteps of great-grandfather Nicolantonio who, at the beginning of the last century, laid the foundations of the agricultural business strongly oriented towards the production of wine grapes.
The new generations of the family have embraced and continued the great-grandfather's project, expanding and improving grape productions, mainly focusing on DOC wines and moving towards a completely organic production.
Harvesting with love
Today, as in the past, our company is characterized by the care for the grapevines and love in hand-picking the grapes.
The sun
Favorable exposure to the sun on the large hills where our vineyards extend.
The sea and the mountain
The significant temperature fluctuations that occur and the east-west air currents due to the proximity of the Adriatic Sea and the imposing massif of the Maiella.
The Pergola
Currently, our company has over twenty hectares of land dedicated to vineyards, all entirely organized in the typical pergola system, with a particular predominance of Montepulciano d'Abruzzo, Pecorino, and Trebbiano grapes.
Grapewines
What we produce
Each bottle of wine from our winery represents the essence of our love for the land of Abruzzo's vineyards. After a hand-picking process that carefully selects each grape cluster, we move on to vinification through gentle pressing and controlled-temperature fermentation, techniques that preserve the quality and aroma of the raw material. Depending on the final product, the wines rest and mature in steel tanks, large wooden barrels, or barriques. All of our produced wines are characterized by distinctive notes, intense aromas, and surprising structure and complexity.
Taste the quality of our wines!
We are passionate about wine and always strive to offer the best.
If you too want to discover our wines and learn about all the available offers,
fill out the form to request a personalized quote:
our staff will contact you as soon as possible.
Request a quote from us now
Our products
Choose what you prefer
All
Tenuta Magna line
Le Masserie line
Oil line
Christina Dettling
da vivino.com
Sehr schwer fruchtig.
Antonino R
da vivino.com
Colore Giallo paglierino con riflessi verdognoli ... al naso Bouquet fresco e gradevolmente fruttato ... in bocca sapore fresco ... asciutto ed armonico ... buono.
Maurizio Baldazzi
da vivino.com
Ottimo vino per pasteggiare salumi formaggi e carni rosse.
Claudia Romasco
da vivino.com
Secco, più che fruttato lo definirei floreale. Buon rapporto qualità-prezzo. Da servire con una bella frittura di pesce..
Gianluca Giorgio
da vivino.com
Vino dal sapore intenso, gustoso al palato ottimo x accompagnare un'ottima frittura di pesce del ristorante la rosa dei venti di Trivento (CB)
Gerard Armstrong
da vivino.com
Excellent. I drink Montepulciano D'Abruzzo regularly and this wine immediately stood out for me.
Location:
Via Piana Morelli, 4 - 66010 Villamagna (CH), Italy
Email:
info@tenutamagna.it
Call:
+39 0871 300130
+39 329 0944287